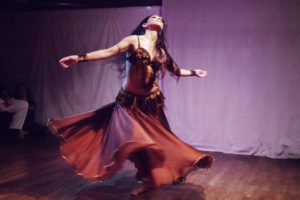 UPCOMING PERFORMANCES:
Sira performs with Live Band Transition featuring
Mal Stein
, Robert Boghosian and special guest Nick Mandoukos. Music from 8-11:00 pm, belly dance show at 9:30. Free show with dinner/drinks (no min)
PAST PERFORMANCES/ARCHIVES:
1/25/18 – SIRA PERFORMS WITH THE HABIBI KINGS AT JAZZ & SUPPER CLUB SWING 46!
The Habibi Kings are Michael Garin (bandleader, keyboard, vocals); international superstar Samir Shukry (violin, vocals); and the drumming sensation of Broadway's The Band's Visit, Ossama Farouk (doumbek) Songs in English, Arabic, Farsi, French, Spanish, Hebrew, Greek, Italian, and Yiddish. The band plans from 10-1:00 am and belly dance performance at 11:30 pm.
12/7-12/16 BROOKLYN NUTCRACKER SWEET!
Sira performs with the Brooklyn Ballet for Coffee Dance as the Arabian Dancer. "A re-imagined holiday classic, The Brooklyn Nutcracker fuses ballet, hip-hop and a myriad of world dance genres to create a new tradition for today's audience." Purchase tickets
Here
Read The New York Times review of Sira
Here
!
"Most remarkably of all to this "Nutcracker" connoisseur, this production's Arabian dance, performed by Sira., is the most satisfyingly gorgeous I've seen: not an imitation piece of eastern culture in hoochie-coochie style but a real example of belly dancing, sensuously fitted to the music."
https://www.nytimes.com/2017/12/08/arts/dance/review-brooklyn-nutcracker.html
HIRE SIRA TO PERFORM AT YOUR UPCOMING EVENT
TESTIMONIALS
80th Birthday party review

Sira is a charmer! She was very gracious, elegant and danced beautifully with the tray of candles on her head. She had a willing male participant to dance along with her and it was magic for the audience. We enjoyed her performance and many young and not so young guests leaped on the dance floor and tried to imitate Sira's exotic dance moves. It was hilarious and everyone had a wonderful time! Bravo Sira! The 80 year birthday boy was very pleased and made some humorous as well as complimentary comments as Sira approched him at his table and the guests really felt entertained. We would highly recommend Sira for performing at happy occasions of all kinds. — Review by Helen N.

Contact Sira