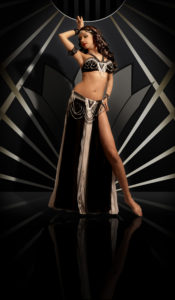 Sira is a highly acclaimed professional dancer, instructor and choreographer based in New York City. She adds passion, joy and elegance to weddings, galas, cultural events and theaters with a natural ability to captivate audiences.
Sira's love of Middle Eastern music and dance is rooted in her Armenian heritage. She was first exposed to belly dance at a young age, sparking a lifelong love for the dance. Since then, her professional training has led to an active career bellydancing throughout New York, the tri-state area and internationally for theatrical shows, private parties as well as high profile events. Currently, Sira's years of experience, dedication to the art of dance and her unique style have earned her the reputation of being one of the most popular belly dancers today.
Sira is available for solo, duet and group performances at weddings, corporate events, birthdays and other celebratory occasions. Click here for a quote!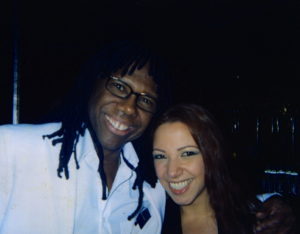 Film/TV Experience
Sira has appeared on the Dr Oz show, The Colbert Report, Late Night with Conan O'Brien, MTV as well as Good Morning America, Good Day New York, and Channel 11 News. Film experience includes Sex and the City 2. Sira is also featured in DVD's "Belly Dance Stars", "The Way to Belly Dance" and "Fantasy Bellydance: Cult of Myth".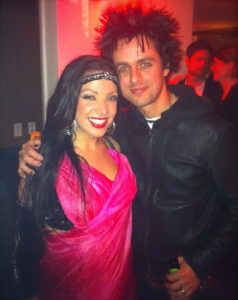 Notable Clients
Sira has performed exclusively for Madonna, Liam Neeson, Peter Gabriel, Wyclef Jean, rock band Green Day, Claire Danes, J Cole, Nile Rodgers, Fabio, Mary-Kate and Ashley Olsen. Some other well-known audience members have been Pulitzer Prize winner Eddie Adams, Dr. Ruth Westheimer, hip hop/producer duo Beatnuts and famous Egyptian singer Hakim. Sira has also performed for Saudi Arabian royalty in London, England, and United Nations Embassadors. Additionally, Sira collaborated and performed with popular bands such as Balkan Beat Box, Gogol Bordello and Yerba Buena.

Stage Experience
In addition to performing regularly at venues in New York, Sira also has enjoyed taking the art of belly dance to the theater stage. She choreographed the solo for, and has been performing the Arabian Coffee dance with Brooklyn Ballet's Nutcracker Sweet! from 2015-present. She has also worked with the Metropolitan Opera for the production of Thais, William Peter Blatty's stage adaptation of John Goldfarb Please Come Home! for the NY Fringe Festival, and performed as a lead dancer in Anahid Sofian's off-Broadway productions Marrakech: Inside the Magic Circle and the Armenian dance-drama Passage through Light and Shadows: The Children of Ararat. Sira has also choreographed and performed for several Fantasy Bellydance productions and the Theatrical Bellydance Conference in NY.
Dance Education
Sira is honored to have had several esteemed mentors in the span of her dance career. During this high level of training, she has studied with and has been a member of renowned dance companies.
Here are some of Masters in Oriental Dance Sira has studied and performed under during her career:
the legendary Serena Wilson
Shoshana
Jehan
Anahid Sofian
Dalia Carella
Elena Lentini.
In order to deepen her understanding and appreciation of Middle Eastern music and culture, she studied "Middle Eastern Music History and Theory" at Stonybrook University
Teaching Experience
Certified by Polestar Inc in Pilates for Rehabilitation, Sira offers the added benefits of a working knowledge of anatomy and proper postural alignment necessary for dance. Sira's teachings emphasize technique, musical expression through movement, and the fun of learning. Her belly dance classes offer a warm, friendly environment where each student receives individual caring attention during class. Sira has taught at Serena Studios, Jorday's Dance studio in Queens, Anahid Sofian Studios and presently with Djoniba dance and drum center located at Rioult dance studios. She has taught a number of workshops in the U.S. and abroad. She is currently available for private coaching and workshops as well as her weekly classes.
About Sira the bellydancer: An authentic theater professional appearing in television and film. Sira is based in New York City, and performs middle eastern dance in NY, NJ, Long Island and CT. Because of her versatility, Sira's audiences range from Greek to Persian, Hispanic, Arabic, and Jewish.
REVIEWS & TESTIMONIALS
(Client review of Sira's performance)
We hired Sira for my husbands 30th Birthday Party. She was AMAZING and beautiful. Full of talent and energy and really got everyone include my husbands grandmother involved!!! it was incredible! Coming from a family where hiring a belly dancer is fairly common, she is by far one of the best I have seen! would definitely hire her again! —Review by Josiane B. FROM GREAT NECK, NY