Hire Sira – Belly Dancer – NYC, NJ and CT
(917) 209-3056
Book a professional belly dancer for your Tri-State event!


You may also call/text 917-209-3056 or email [email protected] for inquiries
Sira offers upscale live belly dance entertainment packages in the greater New York area (plus Connecticut, Long Island, and New Jersey). Parties, weddings, birthdays, and corporate events all love to feature her dynamic shows. Sira's specialties are Middle Eastern, Greek and Persian styles.
Wondering where you have seen Sira before? Sira is extremely popular and an audience favorite! Thus, she has appeared in a wide variety of stage, film and television projects. Her credits include the Dr Oz show, The Colbert Report, Late Night with Conan O'Brien, MTV as well as Good Morning America, Good Day New York, Channel 11 News and also Sex and the City 2.

What to know about hiring belly dancers in NYC
Since you want the best show possible, it is essential to hire an excellent bellydancer who is also a great entertainer. Sira provides professional, mesmerizing, and exciting entertainment. She is available for hire nationwide, and is based out of New York, New Jersey, and Connecticut. Her performances elevate the overall energy of any event, while the performance is custom tailored to suit the needs of your party. Everything is special, from music selection to props and costuming. So hire Sira to take your next special occasion to the next level with a class act!
A Broadway dancer, Sira has received five-star reviews from the Village Voice and the New York Times. Her list of clients and collaborators include the Metropolitan Opera, Fringe Festival and Balkan Beat Box. Since Sira has so much experience onstage, she is skilled at working with many kinds of people. Her audiences include Arabic, Greek, Persian, Armenian, American and many other nationalities.
~ Celebrate life, elevate your occasion, create magical events ~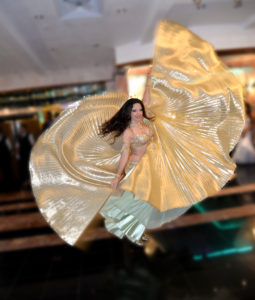 NEW YORK BELLY DANCE EVENT SERVICES
You can hire belly dancers for Special Theme Parties through this page. Dancers are available for many kinds of events. Some examples of this would be birthdays (any age, including sweet sixteens), and Weddings. We also provide dancers to Bar/Bat Mitzvahs. Furthermore, Sira dances at Bridal or Baby Showers, and Bachelorette Parties. Continuing on, Sira's other specialties include Corporate Functions, Concerts, and Nightclub performances. Some of Sira's favorite theme nights with belly dancing are Moroccan and Arabian Nights
HIRING BELLY DANCERS FOR PARTIES
Belly dancers at family events have been a popular banquet hall tradition for centuries. Dancers usually take the stage as an icebreaker after the ceremony. Since it is a favorite tradition in many families, audiences are always happy when Sira comes out to dance.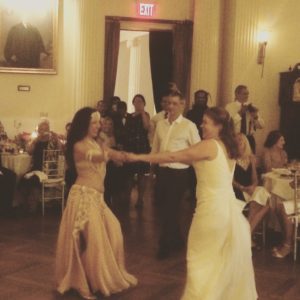 Hiring belly dancers to perform at corporate events is a more recent trend that came. Some examples of corporate events with bellydancing are corporate retreats, and office holiday parties. Other examples include retirement parties, industry conferences, and marketing presentations.
There are lots of good reasons to hire Sira's belly dancers at a corporate event. First, dance is visually eye-catching. It holds the audience's attention. Second, dancing is unusual. It makes people remember and talk about the event. Thirdly, dancers are great for sparking conversation and helping to make the event more fun for everybody. In conclusion, no corporate event should be without a good belly dancer!
Belly dancers for bachelorette parties add a lot of fun to the mix, by encouraging high energy among the guests. Bachelorettes always enjoy dressing up and learning a few dance moves form Sira as part of the night's fun as a result
FINDING A BELLY DANCER IN CONNECTICUT, LONG ISLAND AND NEW JERSEY
Although Sira's home base is in New York City, she loves to perform all around the tri-state region. Because of her skill and magnetic stage presence, Sira is a popular dancer from CT to Long Island and NJ. Since shows in these regions will require a little extra driving time, Sira always appreciates being booked as far in advance as possible. However, last -minute shows can frequently be worked in with short notice depending on her schedule.
WHAT'S INCLUDED IN SIRA'S BELLY DANCE SHOW?
Standard show (most popular choice for all events)
A standard show lasts approximately a half hour! Therefore, this package includes:
First, a powerful entrance with a beautiful veil or wings

Next, balancing prop with sword or candles for dramatic effect

After that, fun audience participation

And finally, it typically ends with a high energy drum solo.
Of course music adds to the effect, so Sira plays finger cymbals skillfully throughout the show. Since some occasions call for even more pizzazz, Sira sometimes uses other props too — like fan veils or Egyptian cane (Assaya).

Class/show (ideal for bridal showers, bachelorette parties or sweet sixteens)
First, learn to bellydance with a very fun 20-30 minute class

Second, a standard show: Riveting dramatic entrance. Then, a graceful slow section. Audience participation.

In conclusion, an upbeat exciting drum solo

Furthermore, hip scarves for use during class will be provided for guests.
Since the class/show package combines two different themes, your guests will have serious fun learning basic belly dance steps (and a short choreography if requested.) Sira is also a certified Pilates instructor.

PRICING: HOW MUCH SHOULD IT COST TO HIRE A BELLY DANCER IN NEW YORK CITY?
Curious about pricing? Don't be afraid to ask! Every event is unique. Because of this, we'll create a custom quote for you. Since we want every detail to be perfect, we will go over your details carefully. Contact us at 917-209-3056 or [email protected] now. After that, Sira will get right back to you with all your options.
LOOKING FOR MORE PARTY IDEAS? HERE ARE TEN OTHER SERVICES SIRA CAN PROVIDE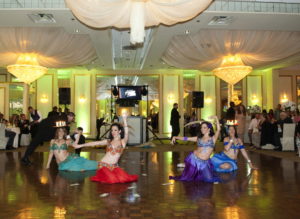 Group bellydance shows with Infinity Bellydance
"Infinity" is an elegant, distinctive and exciting trio. Because there are more dancers, the show is spectacular!
Duet performances with a bellydance sister act
Two beautiful dancers to wow your crowd!
An especially unforgettable performance because the two sisters dance next to another in the same way
Male belly dancer
Our male belly dancer combines strength with grace.
Professional dancers of any/all backgrounds
Our classically trained dancers perform at the most exclusive events in the world because they are highly talented
Aerialists
Add a unique twist to your event! "Cirque du Soleil"-style dancers hanging in the air while on silk ropes
Fire performers
Breathe, eat and balance dramatic flames. Just like in a music video
Live music and DJ's
Looking for a live band? We provide the best musicians in New York. Plus, our DJs can get any sound system thumping
Event planning
Because of Sira's wealth of knowledge, your event will shine.
Photographers
Professional photographers capture moods of your guests, from formal to candid. Take your Instagram to the next level!
Videographers
Videography and editing is available, so you can preserve the memories to share.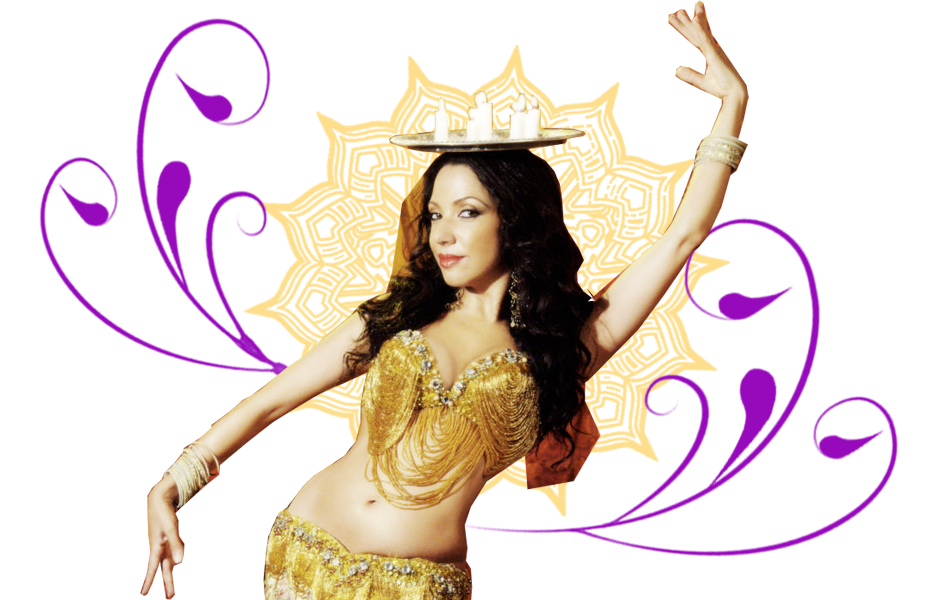 CLIENT TESTIMONIALS
(Review from bridal shower event )

I hired Sira for my daugher's bridal shower. I asked her to do a show & then a lesson with choreograhy. Sira was on time, very professional & accomodating. She put on a fabulous show! Her dancing was beautiful and she performed several different dances with props. She interacted very well with the girls and got everyone up and learning to belly dance! She brought a beautiful scarf for my daughter to use during the lesson which she then gifted to her. Sira also presented my daughter with a certificate of completion. I received nothing but rave reviews and comments from all my guests. We had so much fun because Sira added to much to the shower! I recommend her highly! — Review by L T. FROM SAYREVILLE, NJ

(client review of wedding reception performance by Sira)

I was very pleased with Sira's performance. It was very interactive and kept the guest entertained. I received many compliments about her show. I would recommend her to a friend. — Review by Roshawn A. FROM WESTBURY, NY

(review of Sira dancing at 50th birthday party)

This is the first time we hire entertainment for a family party. We were celebrating my uncle's 50th birthday. Sira was GREAT!! She dances amazingly and is soo beautiful!! Got everyone into the spirit of belly dancing!! Awesome!! From old to young, my whole family enjoyed Sira's performance!! — Review by Madeline G. FROM MASPETH, NY
STILL READING?
You've made it this far down the page, so it seems like you are interested! If you have any questions that haven't been covered so far, why not contact Sira for a consultation?